The Volvo V90 and the Audi A4 Allroad--Which Luxury Performance Suits your Experience?

When it comes to the luxury performance wagon market, one name stands out in particular: Volvo. But premium luxury wagons like the new Volvo V90 do have some competition, like the Audi A4 Allroad. Although the Audi A4 Allroad may serve you well, we believe the Volvo V90 breaks away from the everyday and offers you an automotive experience worthier of your lifestyle. Here's why:
Performance
What would a high-end luxury vehicle be without premium performance?
Engine Power - An exceptional 316 horsepower twin-charged 2.0-liter engine with 295 pound-feet of torque pushes the Volvo V90 further than you thought possible for a vehicle in its class. Utilizing a supercharger and a turbocharger, this engine offers incredible performance without sacrificing fuel consumption, noise, or size. the Audi A4 Allroad's 2.0-liter turbo engine lacks a supercharger and maxes out at 252 horsepower and 273 pound-feet of torque--even though it has the same displacement, cylinder count, and injector type.
Acceleration - With its powerful twin-charged engine and quick, responsive eight-speed transmission, the Volvo V90 offers a thrilling experience on the highway to York, ME and on the streets of Portsmouth. The Audi A4 Allroad's transmission is only seven-speed and doesn't offer the same experience.
Efficiency - You want to spend your driving time driving, not sitting at a gas station. The Volvo V90 offers up to 34 MPG highway, while the Audi A4 Allroad only gets you 30 MPG highway.
Versatility and Utility
Drivers choose luxury performance wagons for their blend of power, comfort, and utility. You deserve only the best from your choice in vehicles.
Passenger Space - Although both models offer seating for five, the Volvo V90 brings you more front leg and shoulder room, so you can stretch out and enjoy those longer drives.
Cargo Space - The Volvo V90 offers you plenty cargo room, with 34 cubic-feet of cargo space with the seats up. The Audi A4 Allroad may have enough space for some drivers with 24.2 cubic-feet of storage room.
Towing Capacity - Want to bring the boat or motorcycle on your next tour to Dover? The Volvo V90 is rated for up to 3,700 pounds towing capacity. The Audi A4 Allroad isn't rated for towing at all.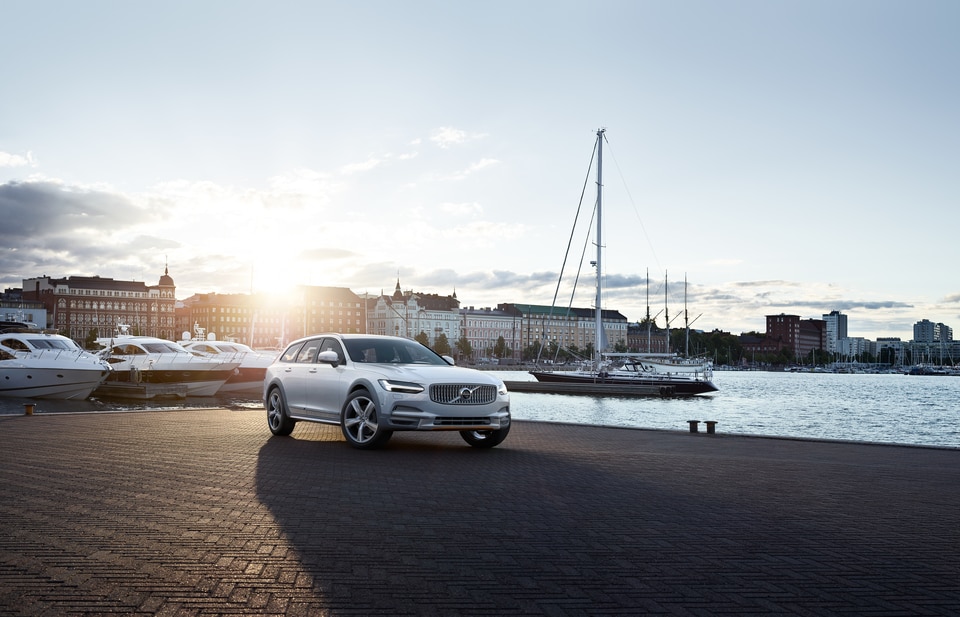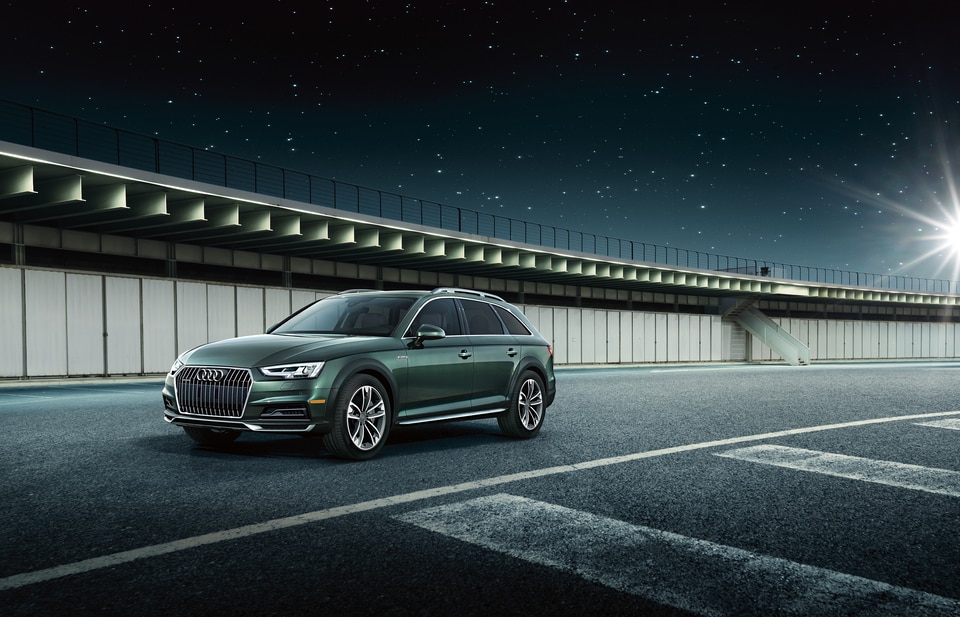 Features and Convenience
When you step upscale with a high-class vehicle, you deserve to have the latest in luxury, safety, convenience, and tech features available.
Safety Technology - Both models offer a wide range of automated safety systems, but only the Volvo V90 offers you Traffic Sign Recognition. You'll also enjoy standard Adaptive Cruise Control, Parking Assist, and Theft-Deterrent systems on the Volvo V90--expensive available options on the Audi A4 Allroad.
Entertainment Technology - Premium sound is a must in a luxury vehicle, and both models offer great options. Yet the Volvo V90 takes it further, with an automatic audio equalizer and automatic Speed-Sensitive Volume adjustment.
Design - You want your ride to be as stylish as you are. Both models offer premium leather seats and sleek styling, but you'll only find the iconic Thor's Hammer headlights, crystalline accents, and premium woodgrain interior trim in a Volvo.
Find Your Adventure Today
Still need some convincing? Visit us at the showroom here in Exeter to learn more from our knowledgeable sales team--or better yet, slide into the driver's seat and experience the elegance of the Volvo V90 first-hand. We offer a full range of new Volvo models, new Volvo leases, and new Volvo loans. Find the thrill you've been looking for Volvo Cars of Exeter.
Featured V90 Inventory
Sorry, we do not currently have any featured inventory on our website.
Please call 1-603-772-5975 for further assistance.

Request a Test Drive
* Indicates a required field
Hours
Monday

7:30am-7:00pm

Tuesday

7:30am-7:00pm

Wednesday

7:30am-7:00pm

Thursday

7:30am-7:00pm

Friday

7:30am-6:00pm

Saturday

8:00am-5:00pm

Sunday

11:00am-3:00pm